High Speed Railway
France's first high-speed railway (the southeast line) has been in operation for more than 30 years since 1981.Nearly 1,600 kilometers of high-speed lines have been put into service, with operating speeds of more than 300 kilometers per hour.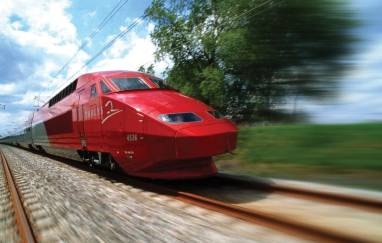 On April 3, 2007, the French high speed train reached 574.8 kilometers per hour in a test run, who broke the world speed record of 515.3 km/h set by himself in 1990 and held since. The test fully demonstrated the strength of French rail transport, for which the reliability of the latest rail train technology is verified, and which also cemented France's leading position in high-speed rail.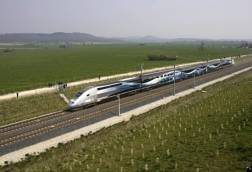 As a French railway engineering and technology company, SYSTRA draws on its long experience in the planning, design, construction, project management and operation of high-speed railways in France, who has been involved in the various implementation phases of many high-speed rail projects worldwide, including:
Feasibility study
Project management
Engineering design and/or design review
Construction supervision
System testing and commissioning
Preparation of operation and maintenance
Staff training and trial running
BOT franchise project
Technical consulting for various specialties
SYSTRA is involved in high-speed railway projects in Europe, Asia, America, Australia and Africa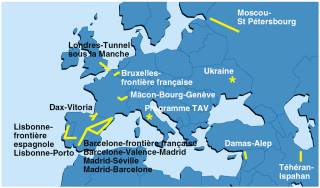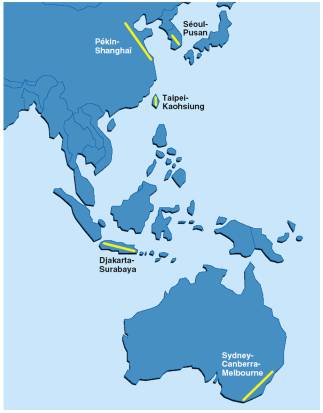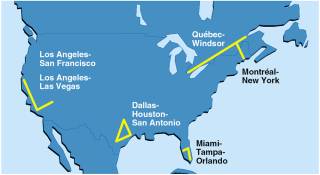 France
SYSTRA experts are directly involved in the design, construction and operation of the French Southeast, Atlantic, Northern, Mediterranean and Eastern TGV lines. In addition, SYSTRA was entrusted by the client to undertake the following projects:
Macon - Fort Blythe - Geneva (95 km)(1990)

- Feasibility study for alignment connection

Geneva-Chambell-Vares (260km)(1991-1993)

- The optimized design of the route through the Alps

Artery line connecting Bordeaux - Dax - Ondayi(1992)

- Technical and economic feasibility study

Mace-Nancy (50km)(1993)

- Economic feasibility study for high speed railway

Mediterranean high speed railway (2000-2001)

- Bridge structure review, risk assessment
Spain
Barcelona to the French border (146km)(1986-2002)

- Preliminary economic feasibility study

- Construction design supervision of alignment, fixed facilities, station and operation system

- The connection of the Madrid-Barcelona section of the high speed railway in Barcelona

- Provide consulting services to the contractor GEIE

Madrid - Seville (470km)(1988-1994)

- Design of traction power, signaling and communication system

- Design of high speed train repair workshop

- Preparation of AVE Train maintenance document

Artery line connecting Madrid-Lerida (2002)

- Technical consulting on signaling and power supply system

Barcelona - Valance - Madrid (700km)(1990-1999)

- Feasibility study

- Provide technical support for the information design of ticketing system

Basque regional railway (1991)

- Preliminary design of the Basque regional railway network renewal project
United Kingdom
Channel tunnel rail link (1994-2007)
The 110km high speed rail link between the channel tunnel and London is the first high-speed line to be built on the island of Great Britain by franchise in nearly a century.
The travel time between London and Paris is expected to fall to 2 hours and 20 minutes in 2007.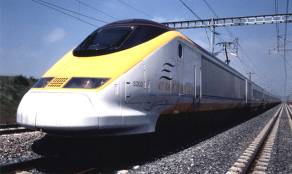 In 1996, SYSTRA became a co-founder of the London-continental railway corporation (" LCR "- Owner) and a member of the RLE joint project team. During the implementation of the project, SYSTRA is mainly responsible for the project concept design, construction design (civil engineering, track, catenary, signaling, power supply control, etc.), project coordination, construction supervision and St Pancras railway station renovation.
Belgium
Brussels-Border of France (70km) (1992-2000)

- Provide technical support, track and catenary system construction supervision for TUC RAIL

- Thematic research on electromagnetic interference

- Maintenance training

- Schematic diagram design of signaling TVM 430

- Review on TMV technical documents

- Assist in definition the supply quantity and BOQ

- Assist in preparation of the construction organization and construction planning

- Test on TMV 430 signaling system
Italy
Lyon - Turin High speed railway (2002)

- Civil engineering and alignment design

- Safety impact analysis on the construction drawing of two tunnels in the section Maurienne-Bussoleno

TAV construction planning (Naples, Rome, Bologna, Milan, Turin)(1992-1998)

- Assist in technical specification optimization, project implementation control and commercial operation preparation
Russia
St Petersburg - Moscow (654 km)(1991-1997)

- Cooperate with RAO-VSM Company to participate in the research and development of high-speed railway

- Sign the general technical consulting agreement

- Undertake preliminary design and project coordination

- Environment evaluation

- Compile the functional specification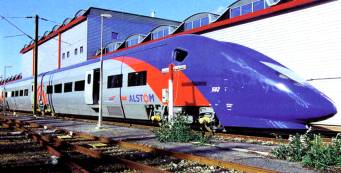 South Korea
Seoul-Busan high-speed railway (since 1996)

The total length is 412 kilometers, including 189 kilometers of tunnels and 110 kilometers of elevated structures and/or bridges.

- Provide technical support for civil engineering design and construction of Korea High Speed Railway Construction Commission (KHRC)

- Provide technical consulting services for track system design, specification definition and system commissioning

- Operation and maintenance preparation of the "core systems" for the Korea-France joint project team

- Prepare technical documents and provide technical training for the client

- Design and procurement of driving simulator

- Provide maintenance guidance for initial operation phase (test track)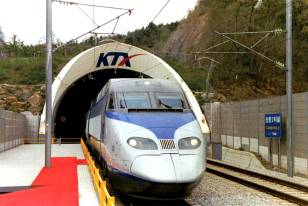 Portugal
Lisbon - border of Spain/Lisbon - Bordeaux (1989-1992)

- Preliminary alignment design, infrastructure investment cost estimation

- Economic feasibility study for the construction of high-speed railway
Indonesia
Jakarta - Surabaya (1995-1996)

- Master plan and feasibility study

- Design consulting on subgrade, bridge, and tunnel and equipment/system of the passenger dedicated line
Australia
Sydney - Melbourne (876km)(1986-1990)

- Study of operation costs

- Forecast of passenger flow and operation income

- Research on operation and maintenance system
Sydney - Canberra (260km)(1995-1999)

- Passenger flow forecast and revenue forecast

- Provide technical support to SPEEDRAIL for bidding (franchise)
Syria
Artery line connecting Damascus - Aleppo (2002)

- A major north-south rail link project was designed to reduce travel time between the two cities from seven hours to three.
Morocco
Morocco high speed railway (2006)

- High-speed railway network planning, design of early phase
USA
Florida (500km)(2006)

- Concept design of alignment, equipment and operation plan

- Provide technical consulting services for engineering design

- Provide technical support for the design and technology of operation system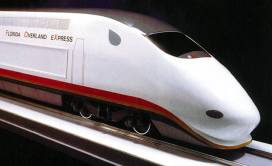 Dallas - Houston/SAN Antonio, Texas (800 km)(1991-1993)

- Consulting services for Texas High Speed Railway Construction Group
Canada
Montreal - Toronto (575km)(1999)

- Concept design

- Passenger flow forecast and economic effect analysis

- Provide technical support for LYNX tendering